Micro Surface Treatment Sdn. Bhd. provides high-quality rack electroplating services to a list of manufacturers that includes some of the best-known names in the industries. We specialize in Electroless Ni Plating, Anodizing, Gold Plating, Chemfilm Conversion and Powder Coating, along with a full complement of metal finishing services. Be it Large parts, small parts, high production or short runs, you can count on us with 15 years' experience in delivering premium quality, quick turnaround and matchless customer service. Certified by ISO 9001 & Nadcap, we are well guided to handle a broad range of specifications. And our commitment to environmental compliance continues to be recognized by the Local Departmental of Environment.
To be the market leader and pre-eminent supplier to customers worldwide.
To be the preferred surface finishing supplier in this region
To achieve our corporate objectives by sustaining business and profitable growth
Our shared values and beliefs are the foundation upon which our company is built. We believe that our people, striving towards a shared vision and guided by a common sa of vlaues and beliefs are our most valuable asset and the ultimate sustainable source of our competitive advantages.
We are guided by our A.C.T.I.O.N.S. that shape the culture of Kobay group of companies.
Agility
Can Do Attitude
Teamwork
Initiative & Accountability
Ownership & Pride
Never Stop Learning
Speed of Response
Micro Surface Treatment is a ISO 9001:2015 and NADCAP AC7004 certified surface finishing house that provide surface treatment solution for metal parts across semicon, medical and aerospace industries.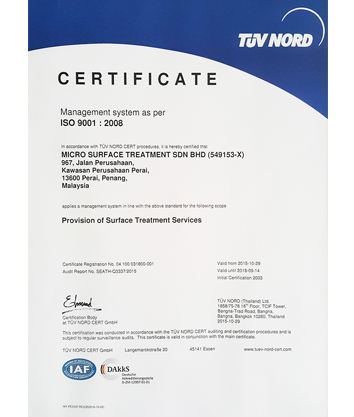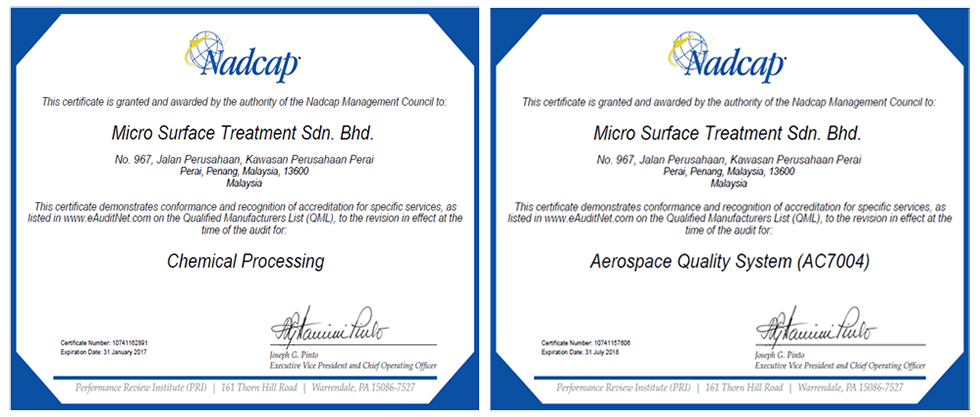 QUALITY POLICY
We, of Micro Surface Treatment Sdn Bhd, are committed to:-
Meet our customers' needs
Seek continuous improvement
Train our employees
and to maintain and continuously improve our quality system in line with MS ISO 9001 and NADCAP AQS AC7004.